Coneixereu la Veritat i la Veritat us farà lliures (Evangeli de Joan 8,32)
Conoceréis la Verdad y la Verdad os hará libres (Evangelio de Juan 8,32)
You shall know the Truth and the Truth shall set you free (Gospel of John 8,32)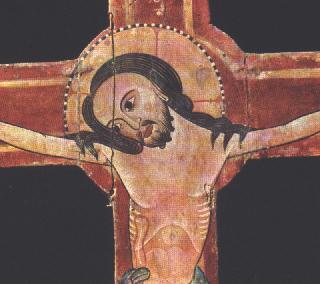 (Pare, perdona'ls que no saben el que fan)
(Padre, perdónales que no saben lo que hacen)
(Father, forgive them for they know not what they are doing)
--------------------------------
Dios es amor
Queridos hermanos, amémonos unos a otros, porque el amor procede de Dios. Todo aquel que ama es hijo de Dios y conoce a Dios. El que no ama no ha conocido a Dios, porque Dios es amor. Dios ha mostrado su amor hacia nosotros al enviar a su Hijo único al mundo para que tengamos vida por él. El amor consiste en esto: no en que nosotros hayamos amado a Dios, sino en que él nos amó a nosotros y envió a su Hijo, para que, ofreciéndose en sacrificio, nuestros pecados quedaran perdonados.
Queridos hermanos, si Dios nos ha amado así, también nosotros debemos amarnos unos a otros.

1ª de Juan 4,7-11
Estimats meus, estimem-nos els uns als altres, perquè l'amor ve de Déu; tothom qui estima ha nascut de Déu i coneix Déu. El qui no estima no coneix Déu, perquè Déu és amor. L'amor de Déu s'ha manifestat enmig nostre quan ha enviat al món el seu Fill únic perquè visquem gràcies a ell. L'amor consisteix en això: no som nosaltres qui ens hem avançat a estimar Déu; ell ens ha estimat primer i ha enviat el seu Fill com a víctima que expia els nostres pecats.
Estimats meus, si Déu ens ha estimat tant, també nosaltres ens hem d'estimar els uns als altres.
1ª de Juan 4,7-11
God is Love
My dear friends, we must love each other. Love comes from God, and when we love each other, it shows that we have been given new life. We are now God's children, and we know him. God is love, and anyone who doesn't love others has never known him. God showed his love for us when he sent his only Son into the world to give us life. Real love isn't our love for God, but his love for us. God sent his Son to be the sacrifice by which our sins are forgiven.
Dear friends, since God loved us this much, we must love each other.
1st John 4, 7-11